November 26, 2021 – January 1, 2022
5:30 pm – 9 pm daily
Located at beautiful Menominee Park in Oshkosh, WI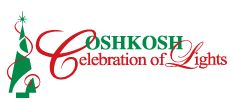 Event runs November 26, 2020 – January 1, 2021
Open 5:30 pm – 9 pm daily
General Admission per carload is $10.00 with $1.00 off for a non-perishable in-date food donation.
ALL COMMUNITY NIGHTS OFFER FREE ADMISSION – An in-date non-perishable food donation appreciated.
Santa available for socially distant visits starting November 26, 2020 – December 23, 2021 as he needs to depart to deliver presents.
Oshkosh COL supports our local community by collecting food every evening we are open.
This effort is so much more than the 3/4 of a  million lights spread over a 1.2 mile route through beautiful Menominee Park. Since 2001, attendees to the annual holiday event have donated close to 150 tons of non-perishable food, which has been donated to local pantries to feed those in need here, in the Oshkosh area. Visitors receive $1.00 off of the normal admission cost by donating an in date non-perishable food item.
Food pantries community-wide, scheduled by United Way, benefit from Celebration of Lights; another truly good reason to celebrate 18 years of holiday magic!
Thank you 2021 Oshkosh Celebration of Lights Sponsors!
(Click on sponsor logo to visit their website!)